EMFACE®: Revolutionizing
Non-Surgical Facelifts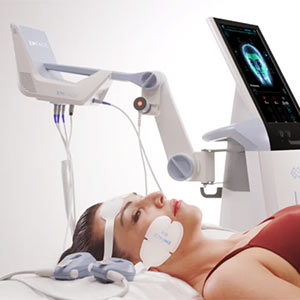 What is Emface?
Emface is the first therapy that works on the framework of your face from the inside out.
Muscles Matter!
Non-invasive
In-and-out procedure
Patient comfort in mind
How Does EMFACE Work?
EMFACE® is the first procedure to apply patented combination of Synchronized Radiofrequency and the HIFESTM facial muscle stimulation.
Presented by Janerich Health & Wellness, EMFACE® is the newest innovation in non-surgical facial treatments, redefining the aesthetic landscape. This transformative solution, developed by BTL, has rapidly gained popularity as the first and only non-surgical facelift requiring no needles, no fillers, and absolutely no downtime. Men and women alike have embraced this game-changing technology, seeking to smooth wrinkles, tighten skin, and regain a youthful glow.
How does it work? EMFACE® utilizes a combination of RF (radio frequency) technology and HIFES™ (high-intensity focused electromagnetic stimulation) technology, both known for their anti-aging benefits. These technologies work in synergy to stimulate the production of elastin and collagen within the treatment area, revitalizing the skin and restoring facial symmetry. This quick, convenient procedure promises a rejuvenated, younger look without the inconvenience or discomfort associated with traditional facelifts.
EMFACE® has revolutionized the industry, offering a practical, non-invasive solution to those who have always desired a facelift but were deterred by the prospect of surgery. At Janerich Health & Wellness, our expert team is proud to provide this innovative treatment to our valued clients in Northeastern Pennsylvania.
Benefits of EMFACE®
What sets EMFACE® apart? The benefits are extensive and impressive. This FDA-cleared procedure is a safe and effective means of toning the face, offering an instant facelift that boosts elastin and collagen production, an integral aspect of maintaining youthful skin. It reduces wrinkles, lifts loose skin, and plumps the face, all within the span of a convenient 20-minute treatment.
Clients at Janerich Health & Wellness enjoy the transformative power of EMFACE® firsthand, witnessing their faces become more defined, lifted, and youthful. Individual results, of course, can vary, but the remarkable before and after images bear testament to the procedure's potential.
How EMFACE® Works
EMFACE® is a breakthrough, merging the benefits of a quick facelift with the advantages of non-invasive procedures. The integrated HIFES™ energy works to diminish wrinkles, lift the face, and tone facial muscles. Concurrently, RF triggers elastin and collagen production in the treatment areas. The result? EMFACE® tones and sculpts the face with zero pain or recovery time, allowing patients to schedule sessions during their lunch break or any convenient time.
EMFACE® Treatment Applications
The versatility of EMFACE® is another key aspect of its allure. The treatment applications are comprehensive, encompassing the eye area, neck, and the eyebrow region for a lateral brow lift. This flexibility ensures a complete, harmonious rejuvenation that addresses all areas of the face.
EMFACE® Results
The results of EMFACE® are remarkable, especially given the non-surgical nature of the treatment. Clients notice a significant restoration to facial volume and an overall more youthful appearance. Enhanced muscle tone, a more prominent lift of the face, and fewer wrinkles are just a few of the incredible outcomes.
Typically, impressive results begin to show after just four sessions, with full results manifesting between 6 to 12 weeks. As with any cosmetic treatment, results will vary per client. However, the consistent satisfaction and positive feedback from our clients speak volumes about the effectiveness of this treatment.
EMFACE® vs. Traditional Facelift
The advent of BTL's EMFACE® technology marks a significant shift away from traditional surgical facelifts. Surgical facelifts, while effective, come with a host of potential complications including anesthesia risks, lengthy recovery times, and possible long-lasting scars.
EMFACE®, on the other hand, offers a safe, effective, and non-invasive alternative that tones facial muscles and revitalizes the complexion. With a quick, 20-minute procedure and no required downtime, it's a preferred choice for those seeking a youthful, refreshed look.
Choosing Janerich Health & Wellness
As a leading provider of non-surgical face and body treatments, Janerich Health & Wellness is committed to delivering exceptional service and results to our clients. We combine cutting-edge technology with highly skilled professionals in a relaxing, luxurious environment. Choosing us means choosing a team dedicated to your aesthetic and wellness goals, bringing years of experience in the aesthetics industry to help you achieve them.
Ready to experience the transformative power of a non-surgical facelift using EMFACE®? Contact Janerich Health & Wellness today to schedule a consultation. Let us help you discover the remarkable benefits of this revolutionary cosmetic procedure and its potential to restore your face, reduce wrinkles, improve facial collagen and elastin, and so much more. Embrace the future of facial rejuvenation with EMFACE® at Janerich Health & Wellness. Your journey to renewed self-confidence and a youthful glow starts here.